Evans Level 360 Hydraulic Tom And Snare Drumheads
Sound Quality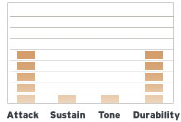 Evans Level 360 Hydraulic 2 ply tom drum drumheads.
The Evans Level 360 Hydraulic tom drum batter side drumheads feature two plies that sandwich a thin layer of oil and give the fat, deep, and short sound pioneered by early 70's rock and roll. The oil decreases sustain and enhances attack and low-end. Additionally, Hydraulics are famously easy to tune...making them a perfect fix for troublesome drums and younger players looking for instant sound. Available in black, glass and blue finishes.
Sound: fat and deep with a short sustain; cures tuning inconsistencies on less expensive or damaged drums.
ETP-HYDGL-F

Evans Level 360 Hydraulic Glass clear tom drum drumhead fusion pack. Includes a 10", 12", and 14" Hydraulic Glass tom head in each...

Our Price: $55.99

EPP-HRUV1-F

Evans Level 360 Hydraulic Red tom drum drumhead fusion pack. Includes a 10", 12", and 14" Hydraulic Red tom head in each pack. Also...

Our Price: $79.99

EPP-HRUV1-R

Evans Level 360 Hydraulic Red tom drum drumhead rock pack. Includes a 10", 12", and 16" Hydraulic Red tom head in each pack. Also...

Our Price: $81.99

EPP-HRUV1-S

Evans Level 360 Hydraulic Red tom drum drumhead standard pack. Includes a 12", 13", and 16" Hydraulic Red tom head in each pack. Also...

Our Price: $82.99

ETP-HYDGL-R

Evans Level 360 Hydraulic Glass clear tom drum drumhead rock pack. Includes a 10", 12", and 16" Hydraulic Glass tom head in each pack....

Our Price: $57.99

ETP-HYDGL-S

Evans Level 360 Hydraulic Glass clear tom drum drumhead standard pack. Includes a 12", 13" and 16" Hydraulic Glass tom head in each...

Our Price: $59.99

TT06HBG

6 inch Evans Level 360 Hydraulic Black tom drum drumhead. Hydraulics feature two plies that sandwich a thin layer of oil and give the fat, deep, and...

Our Price: $19.99

TT06HR

6" level 360 hydraulic red drumhead by Evans. This series features a thin film of oil between two plies of 7mil film, which offers supreme...

Our Price: $19.99

TT06HG

6 inch Evans Level 360 Hydraulic Glass clear tom drum drumhead. Hydraulics feature two plies that sandwich a thin layer of oil and give the fat,...

Our Price: $19.99

TT06HB

6 inch Evans Level 360 Hydraulic Blue tom drum drumhead. Hydraulics feature two plies that sandwich a thin layer of oil and give the fat, deep, and...

Our Price: $19.99

TT08HBG

8 inch Evans Level 360 Hydraulic Black tom drum drumhead. Hydraulics feature two plies that sandwich a thin layer of oil and give the fat, deep, and...

Our Price: $20.99

TT08HR

8" level 360 hydraulic red drumhead by Evans. This series features a thin film of oil between two plies of 7mil film, which offers supreme...

Our Price: $20.99

TT08HG

8 inch Evans Level 360 Hydraulic Glass clear tom drum drumhead. Hydraulics feature two plies that sandwich a thin layer of oil and give the fat,...

Our Price: $20.99

TT08HB

8 inch Evans Level 360 Hydraulic Blue tom drum drumhead. Hydraulics feature two plies that sandwich a thin layer of oil and give the fat, deep, and...

Our Price: $20.99

TT10HBG

10 inch Evans Level 360 Hydraulic Black tom drum drumhead. Hydraulics feature two plies that sandwich a thin layer of oil and give the fat, deep, and...

Our Price: $21.99

TT10HR

10" level 360 hydraulic red drumhead by Evans. This series features a thin film of oil between two plies of 7mil film, which offers supreme...

Our Price: $21.99

TT10HG

10 inch Evans Level 360 Hydraulic Glass clear tom drum drumhead. Hydraulics feature two plies that sandwich a thin layer of oil and give the fat,...

Our Price: $21.99

TT10HB

10 inch Evans Level 360 Hydraulic Blue tom drum drumhead. Hydraulics feature two plies that sandwich a thin layer of oil and give the fat, deep, and...

Our Price: $21.99

TT12HBG

12 inch Evans Level 360 Hydraulic Black tom drum drumhead. Hydraulics feature two plies that sandwich a thin layer of oil and give the fat, deep, and...

Our Price: $22.99

TT12HR

12" level 360 hydraulic red drumhead by Evans. This series features a thin film of oil between two plies of 7mil film, which offers supreme...

Our Price: $22.99

TT12HG

12 inch Evans Level 360 Hydraulic Glass clear tom drum drumhead. Hydraulics feature two plies that sandwich a thin layer of oil and give the fat,...

Our Price: $22.99

TT12HB

12 inch Evans Level 360 Hydraulic Blue tom drum drumhead. Hydraulics feature two plies that sandwich a thin layer of oil and give the fat, deep, and...

Our Price: $22.99

TT13HBG

13 inch Evans Level 360 Hydraulic Black tom drum drumhead. Hydraulics feature two plies that sandwich a thin layer of oil and give the fat, deep, and...

Our Price: $23.99

TT13HR

13" level 360 hydraulic red drumhead by Evans. This series features a thin film of oil between two plies of 7mil film, which offers supreme...

Our Price: $23.99

TT13HG

13 inch Evans Level 360 Hydraulic Glass clear tom drum drumhead. Hydraulics feature two plies that sandwich a thin layer of oil and give the fat,...

Our Price: $23.99

TT13HB

13 inch Evans Level 360 Hydraulic Blue tom drum drumhead. Hydraulics feature two plies that sandwich a thin layer of oil and give the fat, deep, and...

Our Price: $23.99

TT14HBG

14 inch Evans Level 360 Hydraulic Black tom drum drumhead. Hydraulics feature two plies that sandwich a thin layer of oil and give the fat, deep, and...

Our Price: $24.99

TT14HR

14" level 360 hydraulic red drumhead by Evans. This series features a thin film of oil between two plies of 7mil film, which offers supreme...

Our Price: $24.99

B14HBG

14 inch coated Evans Level 360 Hydraulic Black batter side snare drum drumhead. Hydraulics feature two plies that sandwich a thin layer of oil and...

Our Price: $27.99

TT14HG

14 inch Evans Level 360 Hydraulic Glass clear tom drum drumhead. Hydraulics feature two plies that sandwich a thin layer of oil and give the fat,...

Our Price: $24.99

TT14HB

14 inch Evans Level 360 Hydraulic Blue tom drum drumhead. Hydraulics feature two plies that sandwich a thin layer of oil and give the fat, deep, and...

Our Price: $24.99

B14HB

14 inch coated Evans Level 360 Hydraulic Blue snare drum drumhead. Hydraulics feature two plies that sandwich a thin layer of oil and give the fat,...

Our Price: $27.99

B14HR

14 inch coated Evans Level 360 Hydraulic Red snare drum drumhead. Hydraulics feature two plies that sandwich a thin layer of oil and give the fat,...

Our Price: $27.99

TT15HBG

15 inch Evans Level 360 Hydraulic Black tom drum drumhead. Hydraulics feature two plies that sandwich a thin layer of oil and give the fat, deep, and...

Our Price: $25.99

TT15HR

15" level 360 hydraulic red drumhead by Evans. This series features a thin film of oil between two plies of 7mil film, which offers supreme...

Our Price: $25.99

TT15HG

15 inch Evans Level 360 Hydraulic Glass clear tom drum drumhead. Hydraulics feature two plies that sandwich a thin layer of oil and give the fat,...

Our Price: $25.99

TT15HB

15 inch Evans Level 360 Hydraulic Blue tom drum drumhead. Hydraulics feature two plies that sandwich a thin layer of oil and give the fat, deep, and...

Our Price: $25.99

TT16HBG

16 inch Evans Level 360 Hydraulic Black tom drum drumhead. Hydraulics feature two plies that sandwich a thin layer of oil and give the fat, deep, and...

Our Price: $26.99

TT16HR

16" level 360 hydraulic red drumhead by Evans. This series features a thin film of oil between two plies of 7mil film, which offers supreme...

Our Price: $26.99