Evans EMAD Resonant Bass Drum Drumheads
Sound Quality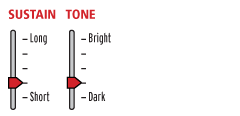 Evans EMAD resonant black bass drum drumhead with port.
With accentuated low-end response, the EMAD Resonant is constructed using a 7.5mil black film with a 6.5mil fixed internal control ring. It comes with an Externally Mounted Adjustable Damping system installed around the 4" offset microphone port that allows the user to manipulate attack,tone, and sustain without the need for internal damping.
Sound: deep and controlled low-end with adjustability over punch and sustain.
DSKP2BL

Black KickPort2 sound enhancing bass drum drumhead port insert. The The KickPort2 Patented design enhances the sound of your kick drum by doing four...

Our Price: $48.99

DSKP2CH

Chrome KickPort2 sound enhancing bass drum drumhead port insert. The The KickPort2 Patented design enhances the sound of your kick drum by doing four...

Our Price: $51.99

DSKP2GO

Gold KickPort2 sound enhancing bass drum drumhead port insert. The The KickPort2 Patented design enhances the sound of your kick drum by doing four...

Our Price: $51.99

DSKP2R

Red KickPort2 sound enhancing bass drum drumhead port insert. The The KickPort2 Patented design enhances the sound of your kick drum by doing four...

Our Price: $48.99

DSKP2WH

White KickPort2 sound enhancing bass drum drumhead port insert. The The KickPort2 Patented design enhances the sound of your kick drum by doing four...

Our Price: $48.99

FX2BD

2" White KickPort bass drum sound enhancing drumhead port insert. The KickPortFX series from Kickport is a revolutionary sonic port for your...

Our Price: $27.99

... [click here] to select options and add to cart

To be notified when this product is back in stock please

click here

.

EBP-EMADSYS

TOO GOOD OF A DEAL SO THEY KILLED IT, 1 LEFT IN STOCK SO DON'T DELAY,...

Our Price: $87.99

EQPAD

Evans EQ Pad bass drum drumhead internal muffling pad. The EQ Pad is an adjustable bass drum muffler that enables control over attack and sustain. A...

Our Price: $21.43

BDMF

The Pearl BDMF Bass Drum Muffler provides the right amount of padding needed to achieve a balance of low frequencies and resonance.

Our Price: $30.39

BD18REMAD

18 inch Evans black resonant EMAD bass drum drumhead with 4 inch side port. With accentuated low-end response, the EMAD Resonant is constructed using...

Our Price: $50.99

BD20REMAD

20 inch Evans black resonant EMAD bass drum drumhead with 4 inch side port. With accentuated low-end response, the EMAD Resonant is constructed using...

Our Price: $52.99

BD22REMAD

22 inch Evans black resonant EMAD bass drum drumhead with 4 inch side port. With accentuated low-end response, the EMAD Resonant is constructed using...

Our Price: $54.99

BD24REMAD

24 inch Evans black resonant EMAD bass drum drumhead with 4 inch side port. With accentuated low-end response, the EMAD Resonant is constructed using...

Our Price: $59.99

BD26REMAD

26 inch Evans black resonant EMAD bass drum drumhead with 4 inch side port. With accentuated low-end response, the EMAD Resonant is constructed using...

Our Price: $64.99