Evans EQ4 Batter Side Bass And Floor Tom Drum Drumheads
Sound Quality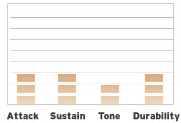 Evans clear and frost EQ4 batter side bass drum drumheads.
The Evans EQ4 clear and frost bass drumheads feature a single ply of 10mil film. A fixed internal overtone control focuses the tonal response of the drum. The frosted version provides a warmer tone.
Sound: a balance of attack with full low-end sustain and suppressed overtones.
FX2BD

2" White KickPort bass drum sound enhancing drumhead port insert. The KickPortFX series from Kickport is a revolutionary sonic port for your...

Our Price: $27.99

... [click here] to select options and add to cart

To be notified when this product is back in stock please

click here

.

BD16GB4

16 inch Evans EQ4 clear batter side bass drum drumheads are a single 10mil ply with a fixed internal tone control ring.

Our Price: $47.99

TT16GB4

16 inch Evans EQ4 clear batter side tom drum drumheads are a single 10mil ply with a fixed internal tone control ring.

Our Price: $47.99

BD18GB4

18 inch Evans EQ4 clear batter side bass drum drumheads are a single 10mil ply with a fixed internal tone control ring.

Our Price: $49.99

BD18GB4C

18 inch Evans EQ4 frosted batter side bass drum drumheads are a single 10mil ply with a fixed internal tone control ring. The frosted heads are...

Our Price: $49.99

BD20GB4

20 inch Evans EQ4 clear batter side bass drum drumheads are a single 10mil ply with a fixed internal tone control ring.

Our Price: $51.99

BD20GB4C

20 inch Evans EQ4 frosted batter side bass drum drumheads are a single 10mil ply with a fixed internal tone control ring. The frosted heads are...

Our Price: $51.99

BD22GB4

22 inch Evans EQ4 clear batter side bass drum drumheads are a single 10mil ply with a fixed internal tone control ring.

Our Price: $53.99

BD22GB4C

22 inch Evans EQ4 frosted batter side bass drum drumheads are a single 10mil ply with a fixed internal tone control ring. The frosted heads are...

Our Price: $53.99

BD16GB4UV

16 inch Evans UV EQ4 coated batter side bass drum drumheads are a single 10mil ply with a fixed internal tone control ring. Features the same...

Our Price: $52.99

BD18GB4UV

18 inch Evans UV EQ4 coated batter side bass drum drumheads are a single 10mil ply with a fixed internal tone control ring. Features the same...

Our Price: $54.99

BD20GB4UV

20 inch Evans UV EQ4 coated batter side bass drum drumheads are a single 10mil ply with a fixed internal tone control ring. Features the same...

Our Price: $56.99

BD22GB4UV

22 inch Evans UV EQ4 coated batter side bass drum drumheads are a single 10mil ply with a fixed internal tone control ring. Features the same...

Our Price: $58.99

BD24GB4

24 inch Evans EQ4 clear batter side bass drum drumheads are a single 10mil ply with a fixed internal tone control ring.

Our Price: $58.99

BD24GB4UV

24 inch Evans UV EQ4 coated batter side bass drum drumheads are a single 10mil ply with a fixed internal tone control ring. Features the same...

Our Price: $63.99

BD26GB4UV

26 inch Evans UV EQ4 coated batter side bass drum drumheads are a single 10mil ply with a fixed internal tone control ring. Features the same...

Our Price: $68.99

BD24GB4C

24 inch Evans EQ4 frosted batter side bass drum drumheads are a single 10mil ply with a fixed internal tone control ring. The frosted heads are...

Our Price: $58.99

BD26GB4

26 inch Evans EQ4 clear batter side bass drum drumheads are a single 10mil ply with a fixed internal tone control ring.

Our Price: $63.99

B16GB4UV

16 inch Evans UV EQ4 coated batter side tom drum drumheads are a single 10mil ply with a fixed internal tone control ring. Features the same patented...

Our Price: $52.99