Evans Level 360 Clear EC2S SST Tom Drum Drumheads
Sound Quality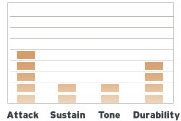 Evans Level 360 clear EC2S SST batter side tom drum drumheads.
Evans Level 360 EC2S SST clear tom drum batter side heads feature a Sound Shaping Technology ring mounted underneath two plies of 7mil film. By controlling edge vibration (instead of eliminating it), the ring isolates and damps higher overtones, enhancing low-end and attack, and enabling a broader tuning range. The Sound Shaping Technology (SST) Edge Control ring mounted on the underside delivers an extremely well balanced and pre-EQ'd sound across the full kit by varying the size of the ring for each different head size.
Sound: warm, dense, focused, and with a clear attack in all tuning and dynamic ranges.
FX2FT

White KickPort floor tom sound enhancing drumhead port insert. The KickPortFX series from Kickport is a revolutionary batter-side sonic port for your...

Our Price: $25.99

FX1RT

White KickPort tom drum sound enhancing batter side drumhead port insert. The FX-1RT is designed to be used with 10" to 14" diameter tom...

Our Price: $18.99

ETP-EC2SCLR-F

Evans Level 360 EC2 Clear SST tom drumhead pack. This pack includes fusion size tom heads, 10", 12", and 14". This tom pack offers...

Our Price: $55.99

EPP-EC2SHDD-F

Evans Level 360 EC2 series features two plies of 7mil film with optimized attack, tone, length of sustain, and ease of tuning for each size head. The...

Our Price: $73.99

EPP-EC2SHDD-R

Evans Level 360 EC2 series features two plies of 7mil film with optimized attack, tone, length of sustain, and ease of tuning for each size head. The...

Our Price: $75.99

EPP-EC2SHDD-S

Evans Level 360 EC2 series features two plies of 7mil film with optimized attack, tone, length of sustain, and ease of tuning for each size head. The...

Our Price: $77.99

ETP-EC2SCLR-R

Evans Level 360 EC2 Clear SST tom drumhead pack. This pack includes rock size tom heads, 10", 12", and 16". This tom pack offers over...

Our Price: $57.99

ETP-EC2SCLR-S

Evans Level 360 EC2 Clear SST tom drumhead pack. This pack includes standard size tom heads, 12", 13", and 16". This tom pack offers...

Our Price: $59.99

TT06EC2S

6 inch Evans Level 360 EC2 Clear SST drumhead. The EC2 features a Sound Shaping Technology ring mounted underneath two plies of 7mil film. By...

Our Price: $19.99

TT08EC2S

8 inch Evans Level 360 EC2 Clear SST drumhead. The EC2 features a Sound Shaping Technology ring mounted underneath two plies of 7mil film. By...

Our Price: $20.99

TT10EC2S

10 inch Evans Level 360 EC2 Clear SST drumhead. The EC2 features a Sound Shaping Technology ring mounted underneath two plies of 7mil film. By...

Our Price: $21.99

TT12EC2S

12 inch Evans Level 360 EC2 Clear SST drumhead. The EC2 features a Sound Shaping Technology ring mounted underneath two plies of 7mil film. By...

Our Price: $22.99

TT13EC2S

13 inch Evans Level 360 EC2 Clear SST drumhead. The EC2 features a Sound Shaping Technology ring mounted underneath two plies of 7mil film. By...

Our Price: $23.99

TT14EC2S

14 inch Evans Level 360 EC2 Clear SST drumhead. The EC2 features a Sound Shaping Technology ring mounted underneath two plies of 7mil film. By...

Our Price: $24.99

TT15EC2S

15 inch Evans Level 360 EC2 Clear SST drumhead. The EC2 features a Sound Shaping Technology ring mounted underneath two plies of 7mil film. By...

Our Price: $25.99

TT16EC2S

16 inch Evans Level 360 EC2 Clear SST drumhead. The EC2 features a Sound Shaping Technology ring mounted underneath two plies of 7mil film. By...

Our Price: $26.99

TT18EC2S

18 inch Evans Level 360 EC2 Clear SST drumhead. The EC2 features a Sound Shaping Technology ring mounted underneath two plies of 7mil film. By...

Our Price: $27.99