Evans Level 360 Clear G2 Tom Drum Drumheads
Sound Quality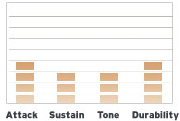 Evans Level 360 Genera G2 clear 2 ply tom drum drumheads.
The Evans Level 360 clear Genera G2 series batter and resonant side tom drum head features two plies of 7mil film ensuring consistency and durability. The perfect blend of depth, sustain and attack make small toms sing and floor toms growl.
Sound: deep and warm with a focused tone, a great mix of attack and sustain.
FX2FT

White KickPort floor tom sound enhancing drumhead port insert. The KickPortFX series from Kickport is a revolutionary batter-side sonic port for your...

Our Price: $25.99

FX1RT

White KickPort tom drum sound enhancing batter side drumhead port insert. The FX-1RT is designed to be used with 10" to 14" diameter tom...

Our Price: $18.99

ETP-G2CLR-F

Evans Level 360 Clear Genera G2 tom drumhead fusion pack. Includes a 10", 12", and 14" clear G2 head in each pack. A perfect blend of...

Our Price: $48.99

EPP-G2HDD-F

Evans Level 360 Clear G2 tom drumhead fusion pack. Includes a 10", 12", and 14" clear G2 head in each pack. Includes a 14" HD Dry...

Our Price: $66.99

EPP-G2HDD-R

Evans Level 360 Clear G2 tom drumhead fusion pack. Includes a 10", 12", and 16" clear G2 head in each pack. Includes a 14" HD Dry...

Our Price: $68.99

EPP-G2HDD-S

Evans Level 360 Clear G2 tom drumhead fusion pack. Includes a 12", 13", and 16" clear G2 head in each pack. Includes a 14" HD Dry...

Our Price: $69.99

ETP-G2CLR-R

Evans Level 360 Clear Genera G2 tom drumhead rock pack. Includes a 10", 12", and 16" clear G2 head in each pack. A perfect blend of...

Our Price: $50.99

ETP-G2CLR-S

Evans Level 360 Clear Genera G2 tom drumhead standard pack. Includes a 12", 13", and 16" clear G2 head in each pack. A perfect blend...

Our Price: $51.99

TT06G2

6 inch Evans Level 360 Clear Genera G2 drumhead. A perfect blend of depth, sustain, and attack, the Evans Level 360 G2 is a two-ply head (7mil each)...

Our Price: $16.99

TT08G2

8 inch Evans Level 360 Clear Genera G2 drumhead. A perfect blend of depth, sustain, and attack, the Evans Level 360 G2 is a two-ply head (7mil each)...

Our Price: $17.99

TT10G2

10 inch Evans Level 360 Clear Genera G2 drumhead. A perfect blend of depth, sustain, and attack, the Evans Level 360 G2 is a two-ply head (7mil each)...

Our Price: $18.99

TT12G2

12 inch Evans Level 360 Clear Genera G2 drumhead. A perfect blend of depth, sustain, and attack, the Evans Level 360 G2 is a two-ply head (7mil each)...

Our Price: $19.99

TT13G2

13 inch Evans Level 360 Clear Genera G2 drumhead. A perfect blend of depth, sustain, and attack, the Evans Level 360 G2 is a two-ply head (7mil each)...

Our Price: $20.99

TT14G2

14 inch Evans Level 360 Clear Genera G2 drumhead. A perfect blend of depth, sustain, and attack, the Evans Level 360 G2 is a two-ply head (7mil each)...

Our Price: $21.99

TT15G2

15 inch Evans Level 360 Clear Genera G2 drumhead. A perfect blend of depth, sustain, and attack, the Evans Level 360 G2 is a two-ply head (7mil each)...

Our Price: $22.99

TT16G2

16 inch Evans Level 360 Clear Genera G2 drumhead. A perfect blend of depth, sustain, and attack, the Evans Level 360 G2 is a two-ply head (7mil each)...

Our Price: $23.99

TT18G2

18 inch Evans Level 360 Clear Genera G2 drumhead. A perfect blend of depth, sustain, and attack, the Evans Level 360 G2 is a two-ply head (7mil each)...

Our Price: $24.99

TT20G2

20 inch Evans Level 360 Clear Genera G2 drumhead. A perfect blend of depth, sustain, and attack, the Evans Level 360 G2 is a two-ply head (7mil each)...

Our Price: $25.99