Evans Level 360 Coated G12 Tom And Snare Drumheads
Sound Quality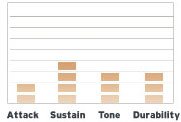 Evans Level 360 G12 coated snare and tom drum drumheads.
Evans Level 360 G12 series coated snare and tom drum heads feature a single ply of 12mil film, offering single-ply feel with two-ply durability. The 20 percent thicker film also provides a deeper fundamental tone and enhanced projection versus traditional 10mil heads. The coated version delivers additional warmth, focus.
Sound: increased depth, durability, attack and projection compared to a 10mil head.
FX2FT

White KickPort floor tom sound enhancing drumhead port insert. The KickPortFX series from Kickport is a revolutionary batter-side sonic port for your...

Our Price: $25.99

FX1SN

White KickPort snare drum sound enhancing batter side drumhead port insert. The KickPortFX series from Kickport is a revolutionary batter-side sonic...

Our Price: $19.99

FX1RT

White KickPort tom drum sound enhancing batter side drumhead port insert. The FX-1RT is designed to be used with 10" to 14" diameter tom...

Our Price: $18.99

B06G12

6 inch Evans Level 360 G12 coated white tom drum batter side drumhead offers the open tone of a traditional 10mil single-ply drumhead with increased...

Our Price: $14.89

B08G12

8 inch Evans Level 360 G12 coated white snare and tom drum batter side drumhead offers the open tone of a traditional 10mil single-ply drumhead with...

Our Price: $16.99

B10G12

10 inch Evans Level 360 G12 coated white snare and tom drum batter side drumhead offers the open tone of a traditional 10mil single-ply drumhead with...

Our Price: $17.99

B12G12

12 inch Evans Level 360 G12 coated white snare and tom drum batter side drumhead offers the open tone of a traditional 10mil single-ply drumhead with...

Our Price: $18.99

B13G12

13 inch Evans Level 360 G12 coated white snare and tom drum batter side drumhead offers the open tone of a traditional 10mil single-ply drumhead with...

Our Price: $19.99

B14G12

14 inch Evans Level 360 G12 coated white snare and tom drum batter side drumhead offers the open tone of a traditional 10mil single-ply drumhead with...

Our Price: $20.99

B15G12

15 inch Evans Level 360 G12 coated white snare and tom drum batter side drumhead offers the open tone of a traditional 10mil single-ply drumhead with...

Our Price: $21.99

B16G12

16 inch Evans Level 360 G12 coated white tom drum batter side drumhead offers the open tone of a traditional 10mil single-ply drumhead with increased...

Our Price: $22.99

B18G12

18 inch Evans Level 360 G12 coated white tom drum batter side drumhead offers the open tone of a traditional 10mil single-ply drumhead with increased...

Our Price: $23.99