Evans Level 360 Coated G14 Tom And Snare Drumheads
Sound Quality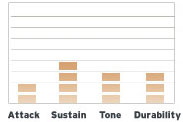 DISCONTINUED: GET THEM WHILE YOU CAN!
Evans Level 360 coated G14 batter side snare and tom drum drumheads.
Evans Level 360 G14 coated snare and tom drum batter heads are the loudest, most durable single-ply drum heads on the market. Crafted using premium quality film that is 14mil thick instead of the industry standard 10mil, the Evans coated G14 delivers unprecedented durability without losing the strong dynamic response of a single-ply drum head. Ideal for use in high-volume performance situations, the coated G14 can withstand heavy playing while projecting through the mix to provide a full, aggressive sound. Evans' proprietary white coating provides additional warmth of tone.
Sound: focused mid-range with depth, while maintaining the tone, stick response and sustain of a single-ply head.
FX2FT

White KickPort floor tom sound enhancing drumhead port insert. The KickPortFX series from Kickport is a revolutionary batter-side sonic port for your...

Our Price: $25.99

FX1SN

White KickPort snare drum sound enhancing batter side drumhead port insert. The KickPortFX series from Kickport is a revolutionary batter-side sonic...

Our Price: $19.99

FX1RT

White KickPort tom drum sound enhancing batter side drumhead port insert. The FX-1RT is designed to be used with 10" to 14" diameter tom...

Our Price: $18.99

B06G14

6 inch Evans Level 360 G14 coated single ply tom-tom drum head. Evans Level 360 G14 batter heads are the loudest, most durable single-ply drum heads...

Our Price: $11.19

... [click here] to select options and add to cart

To be notified when this product is back in stock please

click here

.

B12G14

12 inch Evans Level 360 G14 coated single ply snare drum and tom-tom drum head. Evans Level 360 G14 snare and tom batter heads are the loudest, most...

Our Price: $12.46

B13G14

13 inch Evans Level 360 G14 coated single ply snare drum and tom-tom drum head. Evans Level 360 G14 snare and tom batter heads are the loudest, most...

Our Price: $13.42

... [click here] to select options and add to cart

To be notified when this product is back in stock please

click here

.

B14G14

14 inch Evans Level 360 G14 coated single ply snare drum and tom-tom drum head. Evans Level 360 G14 snare and tom batter heads are the loudest, most...

Our Price: $13.99

... [click here] to select options and add to cart

To be notified when this product is back in stock please

click here

.

B16G14

16 inch Evans Level 360 G14 coated single ply tom-tom drum head. Evans Level 360 G14 batter heads are the loudest, most durable single-ply drum heads...

Our Price: $15.98

B20G14

20 inch Evans Level 360 G14 coated single ply tom-tom drum head. Evans Level 360 G14 batter heads are the loudest, most durable single-ply drum heads...

Our Price: $23.32