Evans Level 360 Coated EC2S SST Tom/Snare Drumheads
Sound Quality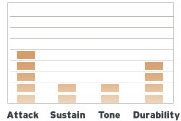 Evans Level 360 frosted EC2S SST batter side snare and tom drum drumheads.
Evans Level 360 EC2S SST frosted snare and tom drum batter heads feature a Sound Shaping Technology ring mounted underneath two plies of 7mil film. By controlling edge vibration (instead of eliminating it), the ring isolates and damps higher overtones, enhancing low-end and attack, and enabling a broader tuning range. The Sound Shaping Technology (SST) Edge Control ring mounted on the underside delivers an extremely well balanced and pre-EQ'd sound across the full kit by varying the size of the ring for each different head size. The coated version delivers additional warmth, focus, and depth, plus a unique translucent appearance.
Sound: warm, dense, focused, and with a clear attack in all tuning and dynamic ranges.
FX2FT

White KickPort floor tom sound enhancing drumhead port insert. The KickPortFX series from Kickport is a revolutionary batter-side sonic port for your...

Our Price: $25.99

FX1SN

White KickPort snare drum sound enhancing batter side drumhead port insert. The KickPortFX series from Kickport is a revolutionary batter-side sonic...

Our Price: $19.99

FX1RT

White KickPort tom drum sound enhancing batter side drumhead port insert. The FX-1RT is designed to be used with 10" to 14" diameter tom...

Our Price: $18.99

ETP-EC2SCTD-F

Evans Level 360 EC2 Frosted SST tom drumhead fusion pack. The ETP-EC2SCTD-F includes a 10", 12", and 14" tom head. This tom pack...

Our Price: $55.99

ETP-EC2SCTD-R

Evans Level 360 EC2 Frosted SST tom drumhead rock pack. The ETP-EC2SCTD-R includes a 10", 12", and 16" tom head. This tom pack offers...

Our Price: $57.99

ETP-EC2SCTD-S

Evans Level 360 EC2 Frosted SST tom drumhead standard pack. The ETP-EC2SCTD-S includes a 12", 13" and 16" tom head. This tom pack...

Our Price: $59.99

B06EC2S

6 inch Evans Level 360 EC2 Coated SST drumhead. The EC2 features a Sound Shaping Technology ring mounted underneath two plies of 7mil film. By...

Our Price: $19.99

B08EC2S

8 inch Evans Level 360 EC2 Coated SST drumhead. The EC2 features a Sound Shaping Technology ring mounted underneath two plies of 7mil film. By...

Our Price: $20.99

B10EC2S

10 inch Evans Level 360 EC2 Coated SST drumhead. The EC2 features a Sound Shaping Technology ring mounted underneath two plies of 7mil film. By...

Our Price: $21.99

B12EC2S

12 inch Evans Level 360 EC2 Coated SST drumhead. The EC2 features a Sound Shaping Technology ring mounted underneath two plies of 7mil film. By...

Our Price: $22.99

B13EC2S

13 inch Evans Level 360 EC2 Coated SST drumhead. The EC2 features a Sound Shaping Technology ring mounted underneath two plies of 7mil film. By...

Our Price: $23.99

B14EC2S

14 inch Evans Level 360 EC2 Coated SST drumhead. The EC2 features a Sound Shaping Technology ring mounted underneath two plies of 7mil film. By...

Our Price: $24.99

B15EC2S

15 inch Evans Level 360 EC2 Coated SST drumhead. The EC2 features a Sound Shaping Technology ring mounted underneath two plies of 7mil film. By...

Our Price: $25.99

B16EC2S

16 inch Evans Level 360 EC2 Coated SST drumhead. The EC2 features a Sound Shaping Technology ring mounted underneath two plies of 7mil film. By...

Our Price: $26.99

B18EC2S

18 inch Evans Level 360 EC2 Coated SST drumhead. The EC2 features a Sound Shaping Technology ring mounted underneath two plies of 7mil film. By...

Our Price: $27.99