drumfactorydirect.com news
MONDAY 23 FEBRUARY, 2009 |
---
An interview with Guerrilla Drum Maker's creator John Dutra
by Andi | post a comment
John Dutra
the creator of
Guerrilla Drum Making
gave us this interview for the newsletter.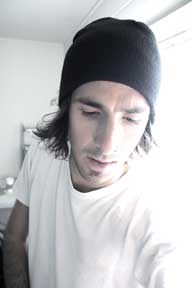 What did you do before you made "Guerrilla Drum Making"?
I had been building for a custom drum company for two years prior. It was actually the single most important thing that triggered the idea for the Guerrilla Drum Making DVD, and not because of the drum making experience. It was because the company was growing so fast and getting so popular, that the rate that I had to produce drum kits at was burning me out. My average work day was getting into the ten hour range with no food breaks... literally running around the shop and pumping out as many kits as possible. It was great for the company, and I am happy for them, but it was horrible for me personally, and I had to take a break. I quit the company and took almost a year off work to cool down.
It was in the first few months of decompressing and relaxing that I had the GDM idea... and then I had the most productive year of my life while making the DVD. It was then that my research showed that there was barely any visual explanations of drum making techniques and tactics. Mostly… everything was step by step drum making procedures with pictures. For such a detailed craft, that seemed crazy to me. There's to many realistic steps that get left out when documenting something with pictures… and it seams truly unrealistic. People need to see someone doing it… seamlessly in action… so they can watch it and say, "Ok… got it. I can do that… no problem."
Do you play drums or just make them?
I play them more than I make them. That was a huge advantage for me when thinking of the "philosophy" of the GDM DVD... was that I am a drummer first! I know how it feels to be playing drums every night... why certain hardware options can't work... what its like to not have money for a new drum set... and more importantly, what it's like to blow a lot of money on a drum set that proves to be mediocre. So I attacked the DVD from both the angle of an experienced musician and a drum builder. That middle ground is why the DVD works. The instructions are presented in a way that says "Do this and this because it works in the field, and try doing it like this because it doesn't cost a thing and you don't have to blow half of your budget on one silly piece of equipment."
What's your personal drum kit setup?
I constantly switch around my setup. Currently I'm playing a 20" x 22" bass with a 15" x 15" floor tom. My first rack tom is a 9" x 10", and my second rack is a 8" x 8." Having the smaller tom in the second tom position creates some interesting patterns that work well with the music I play. All the drums are birch and veneered with birdseye maple, stained and high glossed.
What first got you interested in drum building?
I got interested after seeing Primus' drummer "Brain" play. He had a set up that included all different colored drums. I went home and stripped off the silver laminate to an old Ludwig set, sanded the shells down with my Dad and painted them. It started
there.
What, in your opinion is the most difficult aspect of building a drum?
Truly, for anyone, I think it has to do with patience. The second you start thinking about a concept and start on a project, you want it done. You want the finished product in a snap.... not because the work is too hard or too much... you just want to play your drums.
What's your favorite part of the drum making process?
Concept creation.
Can you describe the sickest drum you've ever made?
It was a custom laminate design for a guys entire kit.... a space theme that intertwined with chemistry, black hole graphs and grids, and some other crazy stuff. I didn't have anything to do with the building process, I was just contracted by a company to do it and it turned out really cool.
What's the single most important piece of advice you could give a first time drum maker?
Use your imagination and get creative. If you even have the slightest spark to build and customize your own set, than you already have a vision.... take time to develop that vision and make it happen.
---
---
---
---
---